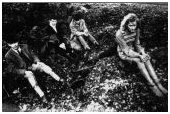 JAZZATEERS 1 (1980-1981)
Alison Gourlay (vocals)
Ian Burgoyne (guitar)
Keith Band (bass)
Colin Auld (drums)
Jazzateers 1 signed to Postcard and were managed by Alan Horne. Several tracks were recorded for singles / a debut album, all unreleased as yet. Some tracks were produced by Edwyn Collins, including a version of Donna Summers' 'Wasted' which was scheduled to be a Postcard single. Another (unreleased) version of Wasted was produced by Pete Bellote.
---
JAZZATEERS 2 (1982)

Paul Quinn (vocals)
Dee Rutkowski (vocals)
Louise Rutkowski (vocals)
Ian Burgoyne (guitar, vocals)
Keith Band (bass)
Colin Auld (drums)
Jazzateers 2 featured former French Impressionist vocalist Paul Quinn, who had made his recording debut on the Fruits of Original Sin track, My Guardian Angel. Jazzateers 2 recorded an album produced by Alan Horne (Lee) which was due to be released on Postcard - it's still unreleased.

At this point Alan Horne decided to reposition the group (Quinn, Burgoyne, Band, Auld) and presented them to major labels. They were renamed Bourgie Bourgie and recorded several demos. Eventually Horne decided that Quinn should embark on a solo career and they both moved to London to try and get a deal.
---

JAZZATEERS 3 (1983)
Grahame Skinner (vocals)
Ian Burgoyne (guitar)
Keith Band (bass)
Colin Auld (drums)
Jazzateers 3 reconfigured with Grahame Skinner on vocals and signed to Rough Trade. Geoff Travis had signed them on the basis of the tracks he had heard that the Jazzateers had previously recorded for Postcard. However Jazzateers 3 recorded and delivered an album to Rough Trade that sounded more like the New York Dolls... Travis wasn't too impressed.

Show Me The Door / 16 Reasons was released as a single swiftly followed by the eponymously titled album, which received excellent reviews. Shortly afterwards Paul Quinn split from Alan Horne and returned to Glasgow from London, and rejoined Band, Burgoyne and Auld. At this point they were joined by Mick Slaven on lead guitar and reverted to the name Bourgie Bourgie, whilst Skinner started a new group with Douglas MacIntyre called White Savages. The Jazzateers had been booked to appear on a UK television show The Switch on back of the press acclaim the group were getting for their Rough Trade album. However, instead they did the Switch as Bourgie Bourgie (performing Show Me The Door and 16 Reasons), and shortly afterwards were being courted by every major label in the UK. Bourgie Bourgie eventually signed to MCA (with Kenny MacDonald replacing Colin Auld on drums) and released two singles, Breaking Point and Careless, an album was recorded (unreleased). Paul Quinn left Bourgie Bourgie and rejoined Alan Horne at his new Swamplands label (via London Records), releasing a couple of singles in tow with Edwyn Collins.
---
JAZZATEERS 4 (1985-1986)

Matthew Wilcox (vocals)
Ian Burgoyne (guitar, keyboards)
Keith Band (bass)
Mick Slaven (guitar)
Douglas MacIntyre (guitar)
Stephen Lironi (drums, keyboards)
Jazzateers 4 released a single (Pressing On) for the Stampede label. An album was recorded (Blood Is Sweeter Than Honey), predictably is wasn't released. The group felt tired and burned, even changing their name briefly to Wild Angels in an attempt to shake off the past. Eventually, after a shambolic gig where a broken bass string resulted in a dreadful version of Garageland by The Clash, the group gave up the ghost and walked off stage to mass indifference.
---